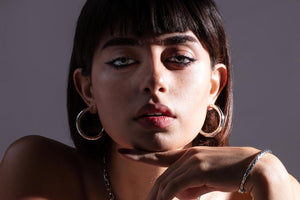 The brand new extra light and extra bright silver bracelet
Brand new jewelry highlights
The latest pieces of jewelry and backstage information from the CAPULET jewelry workshop in Munich.
All news about gold jewelry, silver jewelry, earrings & wedding rings.
Silver Gold
Now things are going well
The most beautiful new collection ever:
The BULLET Collection.
Radiant ball chains & ball bracelets made of pure 925 sterling silver.
Or as a gold bracelet & gold chain with 18 carat gold plating.
Sustainable gold
We use pure 750 gold, white gold and CAPULET gold for our delicate gold rings.
Certified according to RJC.
Pure diamonds
Our rings have particularly high-quality diamonds from SI and VSI. The Top Wesselton diamond color creates the perfect sparkle.
Lucky charm
A delicate diamond ring is the perfect companion for every day and every outfit. A special gift and the ideal engagement ring.
Gold jewelry & silver jewelry
Sustainable gold jewelry & silver jewelry
Brand new pieces of jewelry from the CAPULET jewelry workshop in Munich.
The goldsmiths from the CAPULET jewelry workshop in Munich in Schwabing are constantly developing and forging new, special pieces of jewelry.
A solid gold ring with engraving or a beautiful necklace for women are the current jewelry trends for 2022. Our brand new OCEAN pieces are a particular highlight. A turquoise necklace with an amulet and your own engraving.
Pure turquoise gemstones as an eye-catching turquoise necklace with pendants in gold & silver.
Now it's time: massive, heavy statement jewelry. The CAPULET Goldschmiede is exactly the right address for this.
Each hammered gold & silver ring is made by hand in our Munich & Pforzheim workshop. We only use sustainable & fair gold & silver.
The girls at the goldsmiths reinvent special rings made of gold, with diamonds, or heavy chains with their own engraving, as well as massive bracelets for men and delicate pieces of jewelry for women every day.
The perfect wedding rings and special engagement rings are available in the CAPULET Atelier Munich